COVID-19 pandemic control measures rely on accurate and timely detection of infected individuals. Any defects and delays in diagnosis would negatively impact successful tracing and quarantining of positive cases and can significantly hinder public health control measures [1]. The World Health Organization (WHO) and the Center for Disease Control and Prevention (CDC) advocated the importance of molecular testing to control the spread of the disease. The real-time polymerase chain reaction (RT-PCR) test is considered the gold-standard method for laboratory diagnosis of COVID-19 [2]. Despite high specificity and sensitivity of RT-PCR, challenges related to a shortage in trained staff, equipment or materials, and long turnaround time (TAT) all contribute to delayed COVID-19 diagnosis [3]. Rapid antigen testing has been introduced to serve in cases of sample overloads and at point-of-care (POC) centres [4]. Moreover, SARS-CoV-2 antibody testing became necessary for assessing natural immunity as well as vaccine efficacy [5].
Molecular-based COVID-19 diagnosis at the ministry of health (MOH) in Jordan has gone through a very interesting success story, starting from only one central laboratory in the capital Amman to 17 laboratories spread out in the country to cover every governorate and travel border (Table 1, Figure 1). This story has not been documented yet and we believe that it is worth telling due to possibly being beneficial in many ways.
Table 1. PCR facilities in Jordanian governorates and borders
CMHC – comprehensive medical health center
Figure 1. Map of Jordan showing governorates (Esri, ArcGIS online. USGS, 2019).
DECENTRALISATION OF MOLECULAR DIAGNOSIS OF COVID-19 IN JORDAN: FROM 1 TO 17 LABORATORIES
In personal communication with Dr Mahmoud Ghazo, the Director of Laboratory Directorate at MOH, details of the COVID-19 molecular diagnosis expansion in the country were obtained and reported as follows.
Prior to COVID-19, RT-PCR testing at MOH was only available at the Central Public Health Laboratory (CPHL) in the capital of Amman. A few PCR non-real time-based genetic tests were performed at Prince Hamza molecular laboratory in Amman as well. When the pandemic hit the country with the first and second transmission waves with increasing aggressiveness, CPHL became overloaded with a huge number of samples to be analyzed from all over the kingdom, including those coming from suspected patients at hospitals and point of care centers and those collected by epidemiological investigation teams. The TAT of testing took an average of 5 to 7 days, which hindered MOH from effectively managing the pandemic (MOH, personal communication).
The fact that the private sector and university hospitals that had the capability to perform RT-PCR testing of COVID-19 would charge an average of US$40 per test in the first year of the pandemic, not covered by insurance, drew people to the MOH. The added pressure and overwhelming load posed on CPHL urged the Jordanian government to respond promptly and quickly find solution.
As part of the Jordanian government's national COVID-19 response, the MOH collaborated with private pharmaceutical and biotechnology companies to establish COVID-19 PCR testing units in all governorates and at major travel boundaries. By the beginning of 2021, 16 new COVID-19 molecular diagnosis PCR units started to operate, making sure that each governorate has its own facility (Table 1).
Two different private companies were involved in the establishment of governorates' PCR units according to a tender submitted by the MOH. The site of each governorate's PCR unit was selected by the MOH, some in hospitals and others in comprehensive health centers. The private companies were responsible for providing the PCR testing units with a range of supplies and support required for their laboratories to operate with a testing capacity set by the MOH based on the estimated demand for each governorate. The MOH was responsible for supplying all PCR units, including those of university hospitals, with necessary diagnostic kits and reagents. Table 2 lists the most used molecular assay kits in Jordan.
Table 2. SARS-CoV-2 PCR detection reagent kits available in Jordanian market
NS – nasal swab, TS – throat swab, BAL – bronchoalveolar lavage, OPS – oropharyngeal swab NP – nasopharyngeal, RdRp – RNA-dependent RNA polymerase gene N. Nucleocapsid, h – hours, m – minutes
All laboratories were designed to have two physically separated rooms (extraction and PCR rooms) with a separate working station for master mix preparation. To meet the construction recommendations for a PCR laboratory, the private companies added partition walls in several sites.
In addition to participating pharmaceutical/biotechnology companies, The United States Agency for International Development (USAID) Local Health System Sustainability Project (LHSS) supported the MOH by conducting a comprehensive PCR training program for 79 MOH laboratory technicians from all governorates, including both theoretical and practical aspects. As a result, the PCR testing facility was decentralized to reach all of Jordan's geographic regions.
Along with the decentralization process, MOH developed a software system called Sundos to link all laboratories in the country performing RT-PCR diagnosis of COVID-19, including MOH laboratories, university hospitals laboratories, laboratories of military medical services, private laboratories, and laboratories at travel borders. All samples were given digital bar codes and test results were reported to the software system, allowing the MOH to track infected cases and their contacts.
MAJOR CHALLENGE FACED BY THE DECENTRALIZATION OF COVID-19 MOLECULAR DIAGNOSIS IN JORDAN
The huge expansion in the potential of molecular diagnosis across the kingdom in a relatively short time must have been faced with many serious challenges. Regarding this issue, we interviewed directors of Jordan's major pharmaceutical/biotechnology companies as part of our ongoing qualitative study aimed at determining the challenges in diagnosing COVID-19 in the Jordanian health sector. This study has not been published yet.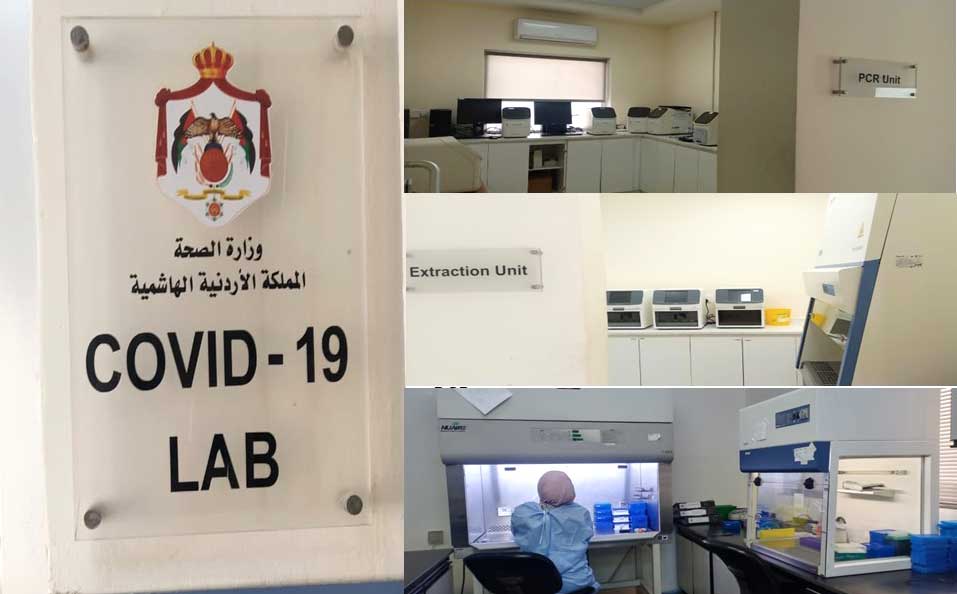 We identified shipping and clearance as two major challenges. Air travel restrictions and airfreight market disruption caused the delay in supplying essential health products. There has been a continuing increase in the available flights since April 2020, and thus in the capability for uniform supplies. However, there is still no indication as to when the situation is expected to return to pre-crisis levels. Furthermore, these companies faced a shortage of coronavirus test kits due to huge demand. They also confirmed taking part in designing diagnosis set ups and training laboratory specialists at Jordanian governmental and private hospitals/laboratories according to the WHO regulations based on their experience in the field. A shortage of trained staff was another challenge identified. These challenges were recently reported by a study assessing the capacity of molecular diagnosis of COVID-19 in Jordan [6].
THE INTRODUCTION OF RAPID TESTING FOR THE DIAGNOSIS OF COVID-19 IN JORDAN
Unlike SARS-CoV and MERS, SARS-CoV-2 spread worldwide at an exceptional rate. In addition to sensitivity and specificity, the development of rapid and high through-put screening testing became a priority. From here, rapid antigen diagnostic tests (ADTs) were developed in hopes to be implemented at POC centers by frontline health care providers for detecting active COVID-19 early infection when timely admittance to molecular testing is not available [3,7]. Rapid test results should be confirmed by RT-PCR [8,9].
In 2020 and the beginning of 2021, Jordanian authorities put many restrictions on the types of commercial tests to be used through the Jordanian Food and Drug Administration (JFDA). Rapid lateral flow assays for detection of antigens were not allowed, while the use of immunoassays for antibody detection was approved. These included enzyme linked immunosorbent assay (ELISA), chemiluminescence-based platform and fluorescence-based platform with European Committee (EC), or Food and Drug Administration (FDA) quality certificates. Among the most common commercially available automated instruments used in Jordan are ARCHITECT SARS-CoV-2 N IgG Immunoassay (Abbot, Illinois, U.S.A), LIAISON® SARS-CoV-2 S1/S2 IgG (Diasorin, Saluggia, Italy), Elecsys® N Anti-SARS-CoV-2 (Roche, Mannheim, Germany), VIDAS® SARS-COV-2 RBD IgG (BioMérieux, Marcy-l'Etoile, France), Siemens SARS-CoV-2 RBD Total (COV2T) (Siemens, NY, USA), Access SARS-CoV-2 RBD IgG assay (Beckman-Coulter, CA, U.S.A.), POC instrument FREND SP IgG/IgM (Nanoentek, Korea), and Ichroma COVID-19 Ab (Ichroma /Korea).
In March 2021, the MOH, in cooperation with USAID LHSS, launched a practical training program on performing rapid ADTs for COVID-19 diagnosis. ADT use was limited to large hospitals only, including MOH hospitals and Royal Medical Services hospitals, along with the University of Jordan Hospital, King Abdullah I Hospital, the National Diabetes Center and the King Hussein Cancer Center. The JFDA only approved EC or FDA quality certified kits with sensitivity and specificity not less than 97% and 99%, respectively [10].
In February 2022, the Jordanian Pharmacists Union urged the government to allow pharmacies to perform ADTs for potential COVID-19 infections [11]. By April 30, 2022, pharmacies are still not allowed to perform or sell ADT kits.
CONCLUSIONS
This article tells an untold story of the enormous expansion of molecular diagnosis of COVID-19 driven by MOH in Jordan. Starting from a central laboratory in the capital Amman, RT-PCR units were established in every governorate as well as travel borders to cover the whole country.
Many benefits have been achieved during the two years of pandemic. In a recent assessment of COVID-19 molecular diagnosis in the country, the number of PCR tests conducted per day significantly increased over time in correlation with the decentralization act [6]. This expansion will benefit potential future pandemics and the diagnosis of other infectious diseases and genetic conditions. Importantly, this expansion stands as a success story of cooperation between governmental and the private health sectors seeking the well-being of the country.
Acknowledgements
We would like to thank Shahed Atef Al-Tarawneh for taking pictures of the expanded COVID-19 molecular diagnosis unit at the central lab in Amman.